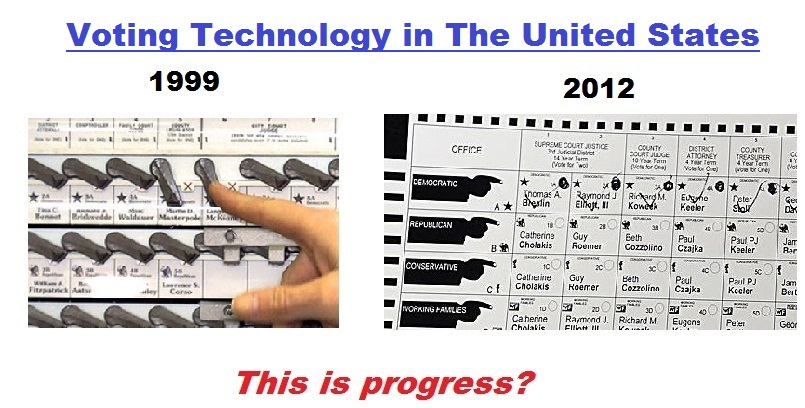 The irony.
At the very end of the 20th century, the United States was poised to revolutionize voting forever. After centuries of voting only at the polling place and often on insecure and inadequate paper ballot systems, the Internet was about to change all that.
The notion of voting online, and all the benefits that it would bring, was occurring to more than a few election officials and developers of online technology. After all, everything else in our lives was rapidly going digital and paperless. Voting would be no different.
Several states began to trial online voting pilots, particularly for absentee voting. Arizona offered online voting in 1999. That's right, thirteen years ago online voting already existed.
DRE (Direct Recording Electronic) terminals at the polling place were phasing out antiquated punch card and optical scan systems throughout the country. While electronic voting at the polling place was better than voting on paper, online voting held the most promise.
One online voting system was developed by the Defense Department (DOD) to be used by overseas military voters. Everyone understood that the first place online voting could have an impact was with these voters. Paper absentee ballots are inadequate enough for domestic voters. For military personnel stationed around the world, going through the process of mailing paper ballots is often daunting enough to drive them to not vote.
The first DOD pilot project was called VOI (Vote Over the Internet) and it was launched in 2000. It was so successful that the DOD later launched SERVE (Secure Electronic Registration and Voting Experiment) in 2004. In all technical trials, SERVE performed flawlessly as well.
Yes, at the dawn of the new millenium the future of voting in America was clearly going to be online. It looked like a bright future.
Then came Bush v. Gore and the election of 2000.
We know what happened. Archaic is too kind of a word to describe the punch card ballots with the famous "hanging chads". The same is true for the butterfly paper ballots used in Palm Beach County, Florida. These ballots caused holocaust survivers to vote for Pat Buchanan for President instead of Al Gore. These confusing pieces of paper handed the election to George Bush.
Suddenly the subject of voting technology, always a very wonkish one which drew no public interest for generations, was all the rage. Congress acted and passed HAVA (Help America Vote Act). Election infrastructure had to be modernized and everyone knew what that meant. Digital voting was in. Paper was out.