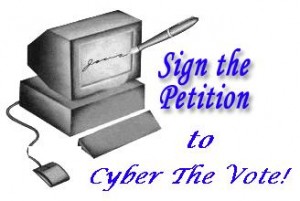 Despite the presence of so much Anti Internet Voting noise, I KNOW that there is support out there for what online voting can achieve.
There are people like me out there, people who understand how online voting can transform our entire political system, by transforming our voting system.
I KNOW you are out there!
Well, it's time to make your voices heard! Right here, and RIGHT NOW!
Sign the new Cyber The Vote petition. The petition with your signature will be sent, based on the State you indicate, to Secretaries of State ACROSS THE NATION, demanding that your voices be heard and that the will of the people be met.
Add your voice to the movement to empower us all.
After signing the petition, you will be sent a confirmation email to confirm your signature as real. (NO INFORMATION you enter will be used for any other purpose whatsoever.)
Time to get to work and protect our most important right – Our RIGHT to vote!
Thanks,
Rob
————————————–
[[petition-1]]